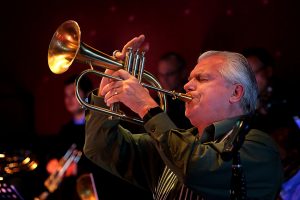 Looking for lessons?
Gary enjoys teaching trumpet players who are looking to take their playing to the next level, through an individualized systematic approach to becoming a more efficient trumpet player which in turn leads the individual to focus more on musical performance. Command of the instrument leads the player to this objective.
Gary has been studying the trumpet for more than 50 years, including studying with some of greatest trumpet players and teachers in the world. His interest in trumpet pedagogy has been a lifelong experience helping him to achieve his goals, allowing him to perform as a lead, jazz and legit trumpet player while leading his own groups as a soloist.
Rates are $30 per half hour and $50 per hour. For more information, fill out the form below – Gary would love to connect with you to help you achieve your goals!
NEW STUDENT DISCOUNTS AND LONG TERM RATES
Start today and get two free lessons to see if you like what i have to offer.
ALL Students: Discounted rates: Buy 8 lessons one hour lesson for $320 or 8 half lessons for $200.
What Gary's students say:
Adult Player : I have been taking trumpet lessons from Gary for a few years. My intonation, range and flexibility has improved tremendously under his teaching. I look at playing and attacking music in a completely different way and style thanks to Gary. Gary is deeply passionate about the trumpet and he himself is always willing to learn new techniques and pass them on to his students. I personally feel Gary is one of the premiere trumpet players in the Metro Detroit Area. Listening to him play in his GGO Band is always a joy and I encourage everyone to take the time to go and listen to him and his band.
Adult Player: I have studied with Gary Greenfelder. I was trying to up my skills to be able to earn a spot playing in his Big Band, the Gary Greenfelder Orchestra. I took weekly lessons and really enjoyed my time with Gary. After several months of lessons, I was able to start subbing in his band when they needed a fill in. I eventually became a full-time member and loved playing with GGO. Gary's methods are varied, and he always challenges you, yet makes you comfortable with where you are in your journey. Gary is really such a great teacher and mentor that I would highly recommend him to any musician!
High School Student: You have greatly improved my technique after only a few months with me. You go through lessons at a steady pace and are flexible in case something comes up, such as a last-minute audition and learning school related materials.
Gary develops routines and exercises he shares from time to time. For a copy of his simply warm-up, you can request it here.